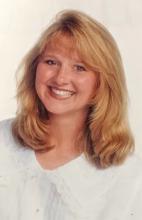 Sarah Anna Rutland Cook, 51 -  beloved grandmother, mother, daughter, sister, aunt and friend - passed away Monday, Oct. 18, 2021.  She was surrounded by her loving family, who fought by her side until the Lord called her home.  A memorial service and Celebration of Life is planned for 2 p.m. Saturday, Oct, 30, 2021, at St. Mary's Episcopal Church, located at 801 The Trace West, Jasper.  Morrison Funeral Home is assisting the family.
Anna was born Dec. 3, 1969, in Tuscumbia and grew up in Sheffield.  She was a happy child, beauty pageant queen, dancer and cheerleader.  She graduated from Sheffield High School.  Anna received her bachelor's degree in political science from Auburn University and her juris doctorate degree at Thomas Goode Jones School of Law in 1997.  She was the kind of woman who cared deeply for others and was always able to see the good in people.
Anna is survived by her children, Brian Davis Harrison and Sarah, Kayla Cook Wyatt and her husband Tadd, Aaron Cook and Westley Padgett; her grandchildren, Kinsleigh Wyatt and Brayli Harrison; her father, Glen Davis Rutland and wife Sara; her mother, Sheila Wells Hawk; her sister, Molly Rutland King and husband Rick; her nephews, Alan King and his wife Jackie and Alex King and many aunts, uncles and cousins.
In lieu of flowers, the family requests that donations be made at stmarysjasper.dioala.org/giving.
To express condolences, visit www.morrisonfuneralhomes.com/obituaries/Sarah-Cook-9/.