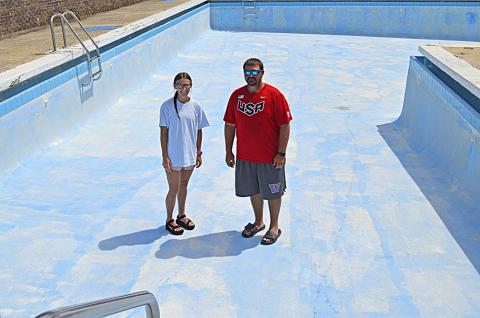 DOUBLE SPRINGS - One Double Springs Town Council member's opinion about the condition and lower attendance at the swimming pool at the community center stirred the waters at a recent meeting.
After a lengthy discussion among the council about hiring lifeguards for the summer, council member Hobby Walker noted he was not ready to hire lifeguards until the condition of the town's pool was addressed.
Park and Recreation Director Bradly Comeens approached the council about the need to hire lifeguards as the pool prepares to open for the season around Memorial Day.
When asked how many lifeguards he needed, Comeens responded that 10 is an ideal number, but they could do well with eight.
"Can we get that pool fixed?" Walker interjected.  "How much is that going to cost?"
"We don't know yet," council member Adam Veal responded.
"I don't think we need to vote on lifeguards," Walker pointed out.
"To my recollection, we averaged two a day last year going at that pool," Walker continued.  "I can't see putting a lot of money into that pool, hire lifeguards and all for no more than that."
Mayor Elmo Robinson asked Comeens how many on average visited the pool last year.
"I can get the paperwork to see," Comeens said. "The day the daycare comes is a big day. A lot of the other days, they are really slow.
"But the days the daycare comes, you're looking at 12 to 13. A lot of the other days, it may between two and five," Comeens added.
"If that's all that's coming over there, I can't see voting on that, simple," Walker pointed out. "That is just like throwing money away."
Robinson asked Comeens when the pool would open for the season, to which Comeens responded most likely around May 31 or June 1, coming after graduation and around the Memorial Day holiday.