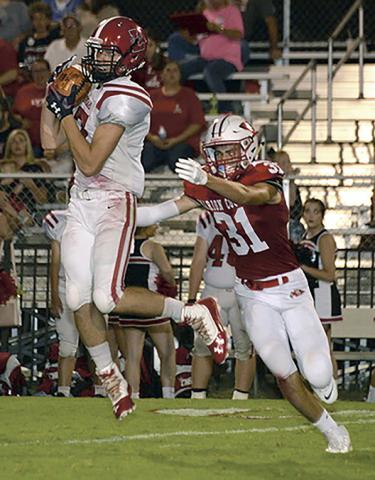 GUIN - Marion County forced a fumble that was recovered by the Red Raiders' Jameson Webb as time expired against Lynn at the 2-yard line to capture the 20-18 Red Raider victory.
The win propelled Marion County to 3-0 overall and 1-0 in Class 1A, Region 6 while Lynn dropped to 1-1 overall and 0-1 in Region 6.
"We've got to learn to finish," Marion County head coach Kyle Williams said following the contest. "We had a couple of opportunities to put the game away and came up short.
"Don't get me wrong, I'm very happy to have won the game, but we've got a long way to go to get to where we want to be."
The Red Raiders won the coin toss and elected to receive the opening kickoff before going three-and-out on their first drive.
Lynn returned the favor by punting on its initial drive. Marion County's second possession saw the first points of the night light up the scoreboard after driving 80 yards on nine plays.
The Red Raiders' Deuce Belk proved to be the driving force on the possession by using seven runs to gain 66 yards, including a one-yard scoring run. Belk's extra-point attempt was good to give the Red Raiders a 7-0 advantage with 4:04 left in the opening quarter.
Marion County forced a Bears three-and-out on their next drive before taking over at the Red Raider 21.  The home team was unable to capitalize on the possession and was forced to punt.
The Red Raider defense continued its strong showing by forcing a third-straight Lynn punt.
Similar to the team's first scoring drive, Marion County once again relied completely on the ground game to find the end zone for a second time.
Belk began the drive with carries for 11, 26 and five yards, respectively.  After a four-yard gain by Zac Hines, Belk popped off three more carries in a row for four, 12 and four yards, respectively. A one-yard run by Hines and a penalty on Lynn moved the ball to the Bears' 5-yard line.
Belk tallied his second rushing score of the night with a five-yard scamper. The missed point-after try kept the score at 13-0, Marion County, with 4:37 left in the half.
Drives by both Lynn and Marion County ended with unsuccessful fake punt attempts before the Bears scored near the end of the half.
Lynn's Brandon Hill found receiver Jacob Rivera for a 13-yard score with 30.2 seconds left in the half. The missed extra-point try left the halftime score at 13-6, Red Raiders.
The opening drive of the second half saw Marion County's Jerry King intercept a Lynn pass at the Red Raiders' 20-yard line and return it 80 yards for a touchdown. Belk's successful extra-point gave the Red Raiders a 20-6 lead with 9:22 left in the third quarter.
Lynn's next possession was riddled with penalties by both teams, but eventually, the Bears found the end zone.
Lynn's Hill connected with Micah Cagle for a 17-yard scoring strike as time expired in the third quarter. An unsuccessful extra-point try kept the score at 20-12 heading into the final quarter of play.
Despite picking up one first down, Marion County's drive stalled and the Red Raiders were forced to punt on their first possession of the fourth quarter.
After taking over at the Bears' own 35-yard line, Lynn capitalized and scored in three plays. An incomplete pass and a run of seven yards by Hill set up a 68-yard pass-and-catch from Hill to Griffin Lynn. A failed two-point try kept Marion County's lead at 20-18.
The Red Raiders' final drive stalled with 2:06 left in the contest as Lynn took over on downs, needing to drive 81 yards for a touchdown.
After back-to-back incompletions, Hill found Cagle on third-and-10 for a 14-yard gain. Another incompletion set up a 13-yard run by Hill that saw Marion County penalized for a facemask to move the ball to the Red Raiders' 38.
Hill used runs of nine and five yards to pick up another first down. After spiking the ball to stop the clock, Hill added a nine-yard run. An incompletion on third down set up a fourth-and-1 at the 15-yard line with 7.2 seconds left in the game.
The Red Raider defense forced a fumble at the 2-yard line and saw Webb recover it as time expired to seal the two-point victory.
Marion County's offense tallied 219 total yards with all of them coming via the ground game.
Belk led the way with 176 rushing yards and two scores on 30 carries. He also went 0-of-8 throwing the ball.  
Hines had 32 rushing yards on 11 carries while King had three runs for 11 yards. King added an 80-yard interception return for a touchdown.
Lynn's offense compiled 352 total yards--263 through the air and 89 on the ground.
Hill completed 13-of-34 pass attempts for 262 yards, two touchdowns and an interception. He added 83 rushing yards on 14 attempts.
Griffin Lynn completed his lone pass for one yard and added two yards on two carries on the ground. He also pulled in four passes for 119 yards and a touchdown.
Rivera had four receptions for 53 yards while Cagle added three catches for 53 yards and a score. Alex Narramore had three receptions for 38 yards.
Marcus Meeks added a four-yard run.
Marion County visits county rival Brilliant on Friday, Sept. 13.
"Brilliant will be a tough game for us," Williams said. "They throw the ball well and always play us hard.
"It's a great rivalry and we look forward to playing them and hope to stay on top of the region."
Lynn is set to host Pickens County for the Bears' second region contest on the year on Friday, Sept. 13.
Both games are set to kickoff at 7 p.m.