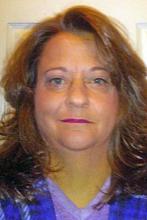 Relena Joette Pearson, 45, of Double Springs, passed away at her residence on Tuesday, May 31, 2022.
Relena was born on December 13, 1976 in Haleyville.
Visitation will be held on Friday, June 3, 2022 from 1-2 p.m. at Nichols Funeral Home in Double Springs, where her funeral will be held at 2 p.m. Burial will follow at Double Springs Memorial Gardens. Chaplain Larry Shifflett will officiate.
Relena is survived by her husband, Joey Pearson; parents, Joe and Kathy Berry; sisters, Felicia Hood (Brent), Shelby Hixen (Tim) and Kristina Berry (Anthony Beasley); sons, Justin Berry (Beth) and Mason Shadix (Melessa); daughters, Tisha Shifflett (Noah), Alisha Pearson and Brittney Pearson; grandchildren, Emma Berry, Joe Wayne Berry, Dillon Berry, Sarah Berry, Michaela Brandon, Lizzy Cregar, Colton Price and Nathan Price; 5 nieces and nephews and a host of other family members and friends.
She was preceded in death by her grandparents, Hubert and Dena Berry and Johnnie and Lula Chambers.