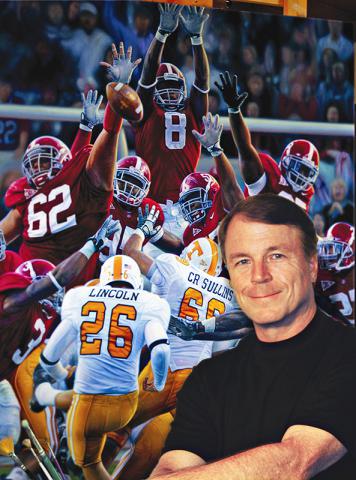 HANCEVILLE  - The Evelyn Burrow Museum is proud to announce an upcoming exhibition featuring the artwork of renowned sports artist Daniel A. Moore. A collection of original paintings and bronze sculpture by the artist will be on display Sept. 11 - Nov. 2 in the museum, located on the campus of Wallace State Community College.

Moore scored big when he released his first limited edition art print titled "The Goal Line Stand" in 1979. The painting commemorates Alabama great defensive stand against Penn State in the Sugar Bowl, winning the 1978 National Championship. Quickly becoming collectors' items, the prints have appreciated by well over 5,000 percent in value, currently selling for up to $2,500 each on the secondary market.

He has earned commissions from the SEC, MLB, NFL, NBA, USGA, PGA, the Sugar Bowl, Outback Bowl, Citrus Bowl, Liberty Bowl as well as numerous universities. The United States Postal Service sought his talents for the 1997 "Legendary Football Coaches" commemorative stamp series featuring Vince Lombardi, Paul "Bear" Bryant, George Halas and "Pop" Warner.

In 2005, Moore was named the "Sports Artist of the Year" by the United States Sports Academy.

An opening reception will be held on Tuesday, Sept. 11, from 6-8 p.m., at The Evelyn Burrow Museum, with Moore in attendance for a meet and greet and signing. He will have prints for sale and will sign those and any other prints of his work individuals would like to bring to the opening. The public is invited to attend.

For more information, call 256.352.8457 or email burrowmuseum@wallacestate.edu or visit www.burrowmuseum.org.

The Evelyn Burrow Museum is regularly open Tuesday-Friday, 9 a.m. to 5 p.m. and Saturday, 10 a.m. to 2 p.m. Admission is free.