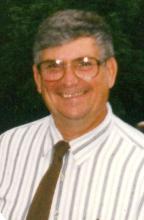 William Curtis Carroll went home to be with his Lord on Tuesday, Sept. 29, 2020, at the VA Hospital in Birmingham after a long battle with cancer. His wife Jackie was at his side.
A memorial service was held Sunday, Oct. 11, at the First United Methodist Church of Haleyville with Bro. Mitch Nethery officiating, along with the Morning Song musicians and singers who provided the upbeat gospel music for the Celebration of Life where he was a member.
Pastor "Curt" was born in Battle Creek, Mich., on Aug. 1, 1939, to Homer Curtis Carroll and June Ardis Chappel. He was preceded in death by his loving wife Janice, his mother and father and a brother, Phillip Lee Carroll.
He is survived by his wife and best friend Jackie, who would have celebrated 39 years of marriage with him on Nov. 6; sister, Rosemary Beth Carroll; son, Russell Curtis Carroll (Kim); daughter, Brenda L. Kruger (Rick); stepchildren, Michael J. Gallagher (Kim), Kristen S. Gallagher and Karin L. Gallagher; eight grandchildren and eight great-grandchildren.
While employed by Kellogg Company in Battle Creek, he donned the "Tony the Tiger" outfit as their mascot for various activities in the Battle Creek area.
He was a member of the First United Methodist Church in Delton, Mich., where he directed and sang in his gospel group, "The Believers."
He attended Grand Rapids School of Bible and Music and was called to the ministry in northern Michigan where he became an ordained Southern Baptist pastor, ministering for 28 years. He was employed by the Southern Baptist Convention as a Michigan Missionary Church Planter, and he and his wife planted churches in Michigan. He was also chaplain for three nursing homes, one assisted living facility and a Catholic hospital in Tawas City, Mich. Because of his battle with cancer, he "retired" and moved to Florida where he planted another church and became director of Senior Adult Ministries at FBC Leesburg, Fla., and interim pastor for FBC Fruitland Park, Fla. He and his wife moved to Lynn, Ala. After his leukemia was in remission, he was always ready to assist pastors in churches in the area if they needed help.
His interment will be at Ft. Custer National Cemetery, near Battle Creek. The date has not been set.
His wife and family would like to thank the Encompass Home Health team, the Encompass Hospice team and the VA Home Based Primary Care team who all provided such wonderful care for him along his long journey.
He fought years of cancer and complications, with unlimited strength, courage, a gentle spirit and unlimited love for people and his Lord. People loved him because of his humor, quick wit and his contagious big smile. He never met a stranger.
Curt, also known as "Tony the Tiger," you were "Grrrrreat!!" We will miss you.
Pinkard Funeral Home assisted the family.