HALEYVILLE - Rocky Ravine is a beautiful green space near the heart of Haleyville, but the state of its trails has kept some residents from enjoying its splendor.
Now, the trails at Rocky Ravine Park, one of which has been closed for years, and a trail leading into the ravine from City Lake may soon see improvements if the city of Haleyville receives an Alabama Department of Economic and Community Affairs' Recreational Trails Program grant for which it has applied.
The planned improvements will focus primarily on the safety of the trails that start in Rocky Ravine Park, located on Highway 195. They would include replacing some disintegrating wooden stairs and covering them with mesh to make them slip-resistant and help prevent future deterioration, replacing some of the wooden foot bridges and installing handrails in spots along the trails.
"Even if we don't get the grant, we're still going to come up with some money to do some of the improvements," said Mayor Ken Sunseri.
The Haleyville City Council held a public hearing on the matter Sept. 6, after which, during its regular monthly meeting, it passed a resolution authorizing the town to apply for the $252,598.50 80/20 matching-funds grant with all council members present voting in favor. Blue Russell was not present.
The town has also applied for a $5,000 North Alabama Trails and Recreation grant that would be used in Rocky Ravine Park.
The two members of the public who spoke at the hearing both favored the idea of improving the trails in the park.
Valeria Taylor asked if the trail improvements would include handicap accessibility.
City engineer Calvin Cassady said the trails that start in Rocky Ravine Park could not be made handicap accessible because they require stairs, but the first portion of the trail that starts at City Lake will be made accessible by wheelchair as far as is possible.
At Sunseri's request, Taylor shared the special history her family has with the park. She said that her grandfather and father were asked by V.H. Albright, Haleyville's mayor from 1948-1964 and 1968-1972, to complete some work in what she thinks was then called City Park, including constructing and painting a white fence.
Carla Lee said that while both she and her son enjoy the trails in Rocky Ravine, she now avoids them because of safety concerns. She asked about the timeframe for completing the improvements.
NACOLG grant writer Robert Cooper, who was assisting with the grant application, said a schedule that would be submitted with the application would have an 18-month timetable for completion of the project after the potential awarding of a grant. He said he hopes the grants will be awarded by Christmas.
"I've been doing recreational programs for the last, I guess, five or six years, and this one already stands out to me as one of the neatest ones," Cooper added, noting that he had hiked down into the ravine with Cassady recently. "It's just beautiful. I love it, and I'm very excited about this project."
Cassady also spoke about the beauty of the ravine. "There are several waterfalls, big waterfalls in there," he said. "In the wintertime when the icicles form, it's beautiful down there."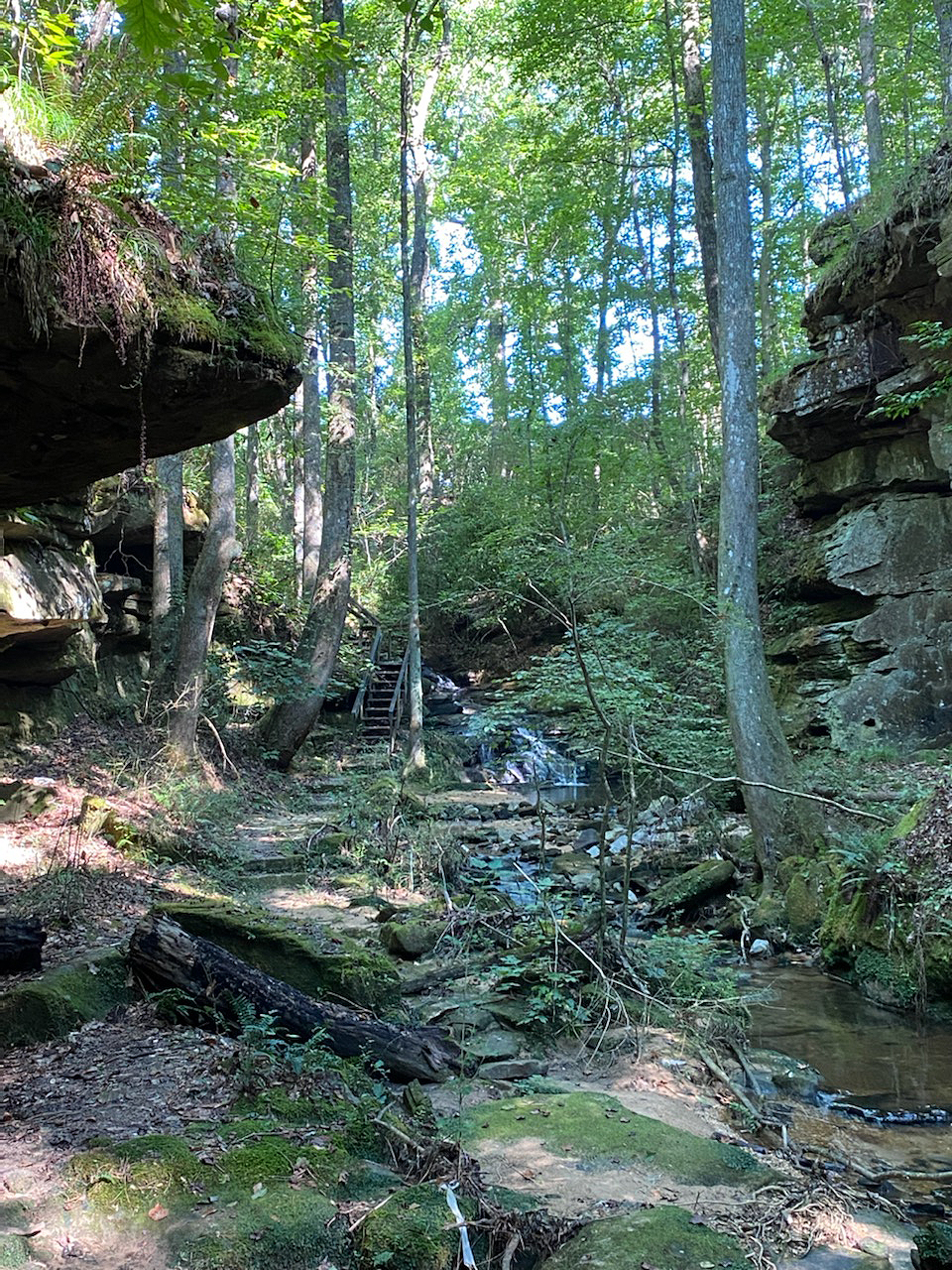 He noted that the ravine also has historical significance. "There's old stuff that had to do with the original water system for the city of Haleyville. There's concrete basins down there. There's piping. There's where pumps sat, but I can't find anybody that knows anything about it," he said, adding that he's looking for someone who can give him information. "I'm going to try to feature those things as you walk down the trail."
As Sunseri later explained, those features of the original water system are there because Haleyville used to pump its water from City Lake before it grew too large for the lake to meet its needs.
"We're excited to revamp this area," Sunseri said. "It's a beautiful area, and I think more people want to get out, especially after the isolation of COVID. We're trying to improve those outdoor recreation facilities that we have. (For example,) we just put in pickleball down at the tennis courts."