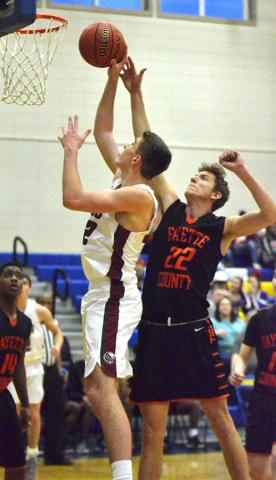 CURRY - Two points were enough to give the Haleyville Lions the win Tuesday, Feb. 5, in the first round of area play at Curry High School. The Lions defeated the Fayette Tigers by a score of 54-52. This put the Lions in the championship round Thursday, Feb. 7, against Curry, with Haleyville winning in overtime 49-42.
Haleyville lead at the end of the first quarter 10-8, but the Tigers were able to come back to take a four point lead at halftime 24-20. Clay Blanton got hot in the three-point territory in the second half, leading the scoring with 15. Others in double digits included Ben Lowman with 13 points and  Jon Tyler Gilbert under the goal with 12 points.
Stats for Haleyville's Tuesday night game included: Grayson Long 9 points, 1 rebound, 2 assists; Ben Lowman 13 points, 3 rebounds, 3 assists, 2 steals; Clay Blanton 15 points, 3 rebounds, 2 assists, 2 steals; Jon Tyler Gilbert 12 points, 8 rebounds, 1 block.
The Haleyville Lady Lions pounded the Fayette Lady Tigers Tuesday night by a score of 72-22. The Lady Lions advanced to the championship round on Thursday night against Curry, winning by a score of 39-31
 Leading the scoring for HHS  Tuesday night was Catie Aldridge with 19 points, 4 rebounds, 1 steal. Others stats included: Alli Temple 17 points 14 rebounds, 2 steals, 1 assist; Reagan Kutis 8 points, 3 rebounds, 4 steals, 2 assists; Mae Boyles 6 points, 7 rebounds, 3 steals, 4 assists; McKenzee Reid 5 points, 2 rebounds; Molly Gilbert 4 points, 3 rebounds, 1 block; Kaitlyn Mobley 4 points, 2 rebounds 1 steal; Ana Aaron 2 points; Ashton McCullar 2 points, 4 rebounds, 1 block, 1 steal, 1 assist; Marina Ortega 2 points; Tesley Callahan 2 points; Madison Caine 1 point, 1 rebound, 1 assist.