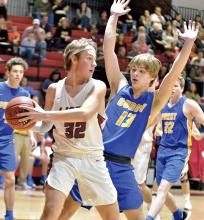 HALEYVILLE - It was a big night for the Haleyville High School, winning all four games against area opponent Curry. The junior varsity girls and boys won, as well as the varsity teams at home.
HHS' varsity girls took the lead in the first quarter and never looked back, winning 50-31. The varsity boys did the same, taking a 46-30 victory.
Scores by quarter in the girls game were: 11-7, 25-10, 40-19 and 50-31. Scoring for the Lady Lions were: Alli Temple 20; Catie Aldridge 16; Ashton McCullar 7; Molly Gilbert 3; Reagan Kutis and Kaitlyn Mobley 2 each.