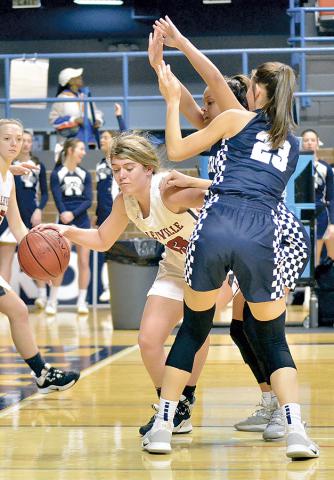 HANCEVILLE - The Rogers High School Lady Pirates showed why they are the returning 3A state champions, with a tenacious double-triple defense and an outside shooting game that can take most down. RHS came in with a 25-4 record.
The Lady Pirates defeated the Haleyville High School Lady Lions Monday, Feb. 17, in the northwest regional semi-finals held at Wallace State Community College by a score of 61-17.
Catie Aldridge, who has been the Lady Lions leading scorer most of the season, had 6 points, 3 rebounds, 1 steal; Madison Caine had 4 points, 3 rebounds; Reagan Kutis, 2 points, 5 rebounds, Molly Gilbert, 2 points, 3 rebounds, 3 blocks, 1 steal; Evelyn Kate Carroll, 2 points, 3 rebounds.