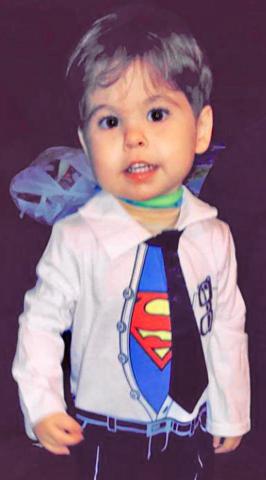 EAST FRANKLIN - A precious 2-year-old boy from the East Franklin community is fighting for his life in a Boston hospital, and help is needed for his medical expenses.
Gunnar Rambo had surgery at Massachusetts General Hospital in Boston Tuesday, Feb. 26, to correct his lower airway and his tracheostomy.  Rambo was born with his esophagus not attaching to his stomach, a life-threatening condition called tracheo-esophageal fistula.  In his very short life, he has undergone numerous surgeries.  The surgery he was undergoing  involved surgeons going through his back to tie his airway - which is collapsing, a condition called tracheomalacia - to his vertebrae.  All of his internal organs will have to be moved to perform this surgery, as well as his aorta.  The surgery was expected to last at least eight hours.
According to the Team Gunnar Facebook page,  this surgery will be the first of several over the next few months to correct this issue.  With Gunnar's airway so irritated and being inflamed from him having to be on a ventilator, doctors will have to place a trach back into Gunnar and allow him to heal, which may take up to six months before the next surgery in the corrective process takes place.
Gunnar's parents, Brandon and Jennifer Rambo, have been fighting with everything they have to make sure their son receives the medical treatment he needs to survive and thrive.  Gunnar's grandmother, Ginger Parson, said that the public can help them by contributing to several accounts that have been set up at area banks, including Traders & Farmers Bank, Listerhill Credit Union and CB&S Bank in Russellville.
Parson wants to thank everyone in the community who has offered kind words, prayers and assistance to her family.
"It is so greatly appreciated,"  Parson said.
"Please pray for Gunnar and the surgeons as we begin this journey to having a healthy, happy baby boy,"  Gunnar's parents posted on Facebook.
Those wanting to contribute to helping to save Gunnar can also go to www.gofundme.com/gunnar-lifesaving-surgery-at-boston-ma to also help the family.