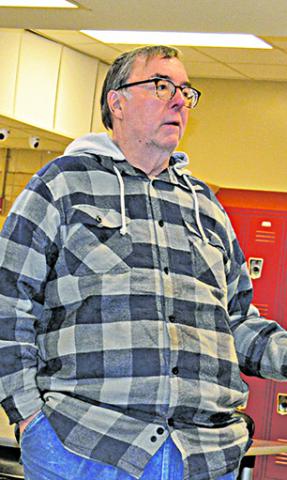 HALEYVILLE    -  The process of obtaining the required number of signatures on a petition calling for a referendum to allow Winston County voters to decide whether alcoholic beverages should be sold throughout the county  is facing its share of obstacles.
Winston County's delegation of state legislators heard concerns about the issue, as well as multiple other concerns, at the annual legislative meet-and-greet forum held Thursday, Jan. 6, at the commons area of Haleyville High School.
Attending the forum this year were State Representatives Tracy Estes and Tim Wadsworth. State Senator Garlan Gudger was unable to attend due to being sick with COVID, Gudger had earlier confirmed.
Jeff Mobley, moderator for the event, noted for the assembly to keep Gudger, who represents all of Winston County, after redistricting, in prayer.
Dusty Pritchett, from Houston, addressed the delegation with concerns about a wet/dry referendum he is seeking so that all of Winston County could legally sell alcoholic beverages.  Pritchett explained he was having success gathering the required number of signatures of registered voters on the county's east side, but was struggling on the county's west side.  Pritchett explained he is seeking to have a referendum on either the May primary ballot or the general election ballot in November.
By having the referendum on either a primary or general election ballot, it would save the county costs associated with having a special election, county officials have explained.
The first step was for Pritchett to have his petition approved, making sure it was technically correct, before it was circulated throughout the county for the required number of signatures.  The petition must contain signatures from 25 percent of qualified voters in the last general election, which was 10,800. This means about 2,600 signatures are needed, county officials added.
The petition must be turned in to Winston County Probate Judge Sheila Moore at least 82 days prior to the election, which, in the case of the May primary, would be Feb. 15.
It has been determined that residents living within the city limits of Haleyville or Double Springs, which are already wet, will not be allowed to vote in the countywide wet/dry election, according to wording in Alabama Code Section 28-2A-1.
Pritchett explained to legislators the above caveat of the law is creating difficulty with the petition on the county's west side.
"When we talk to people in Double Springs and Haleyville, they are already wet. That's where the people are," Pritchett pointed out.
Concerns have been expressed from both Double Springs and Haleyville concerning the loss of income in alcohol sales if their neighboring municipalities go wet.
Haleyville Mayor Ken Sunseri has noted that if  the county decided to place a tax on alcohol sales within the county,  residents in Haleyville should have a right to vote on the referendum.  Those inside the Haleyville city limits but reside in Marion County are also not allowed to vote, county officials said.
Double Springs Mayor Elmo Robinson admitted that the town may be negatively affected some in revenue if the county as a whole goes wet.
The legislation calling for a wet/dry referendum, Pritchett further explained, was changed, dropping the population of municipalities who could vote to sell alcohol from  5,000 to 1,000.
Pritchett continued that the petition calling for the referendum must contain 25 percent of registered voters in the last election, which would include the areas of Haleyville and Double Springs, which cannot vote, therefore reducing the ground he can cover in order to obtain that 25 percent.
"It ought to be the number of affected registered voters in Winston County, and, in my opinion, should exclude Double Springs and Haleyville," Pritchett said.
Wadsworth responded that Winston County has the Posey Amendment, noting that, for every local bill introduced to be passed, the voters of Winston County are required to vote on that bill.
"So, if you put in a bill to exclude Haleyville and Double Springs from voting, they would actually be voting at some point on a bill to make that decision themselves," Wadsworth pointed out.
"This ought to be a statewide bill," Pritchett responded. "We're on our way in the east part of the county. I think (the referendum) would be a help to the whole county."
Estes added that countywide alcohol sales could reduce income in alcohol sales received by Double Springs and Haleyville.
"It would seem logical to me that the original law that allowed counties to have a referendum ought to be based on the 25 percent of the eligible people to vote in that election. In Double Springs and Haleyville, it won't be on the ballot.
"It's a pretty tough uphill battle to try to get 25 percent of the registered  voters to sign it," Pritchett added.
"You can do a local bill to be voted on by the entire county,"  Wadsworth suggested.
If the issue was being entertained as a statewide bill, it would have to be checked further, Wadsworth added.
"I applaud the law to let cities vote," returned Pritchett, "but it makes it really, really, really tough  for the rest of the county to fight that."
Estes asked if any municipalities on the county's east side would be interested in having their own referendum.
Pritchett responded those municipalities do not have populations over 1,000.