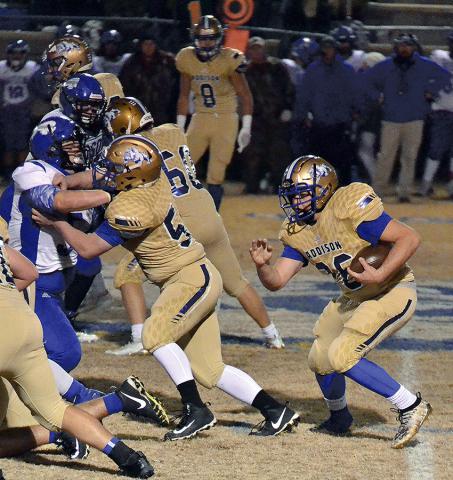 ADDISON - A seven point margin ended the Addison Bulldogs' football season Friday, Nov. 8. The Bulldogs (8-3, 5-1) lost to the North Sand Mountain Bison (9-3, 5-2) by a score of 20-13 in the first round of the state playoffs. The Bison will play Westbrook Christian this Friday night.
The Bulldogs  held North Sand Mountain on the initial possession, taking over control of the ball at the AHS 36.
The Bulldogs, who had a total of 255 yards on the night, lost the ball on the first play to a fumble at the AHS 38. This set up the  scoring drive for NSM. The Bison were in the end zone in four plays, scoring from three yards out. The PAT was good to give the visitors a 7-0 lead in the first quarter.
NSM scored again with 4:21 left in the first half, going 63-yards in eight plays. The Bison scored from the 1-yard-line. The PAT stretched their lead 14-0.
Addison's Caleb Crider was injured during the next drive for the Bulldogs. He was carried off the field on a gurney and taken to Cullman Regional Medical Center by ambulance. He was treated and later released.
Quarterback Christian Roberts gained a first down on the first snap, but a penalty pushed the Bulldogs back to the AHS 33. Crider took the handoff for six yards and Roberts moved the chains to the NSM 48. Crider carried again down to the Bison 43 and was injured on this play.
Weston Smith added four yards, where Roberts connected with Luke Chambers down to the 5-yard-line.  Smith barrelled in to the end zone for the touchdown and Eli Howse added the PAT to narrow the point margin 14-7. This score stood at halftime.
North Sand Mountain scored with about five minutes left in the third quarter on a 46-yard run. The extra point was no good, making the score 20-7.
The Bulldogs were not done. On the following possession, starting from their own 20, Sage Smothers' number was called twice. He moved the ball to the AHS 27, where Smith carried two times for 12-yards. Nelson Martin, who had three carries for 56 yards, gained a first down at the NSM 45. Smothers, Grant Rice and Martin put the Bulldogs at first-and-goal at the 8-yard-line. Rice scored on a quarterback keeper. The  two-point conversion attempt failed, making the final score 20-13.