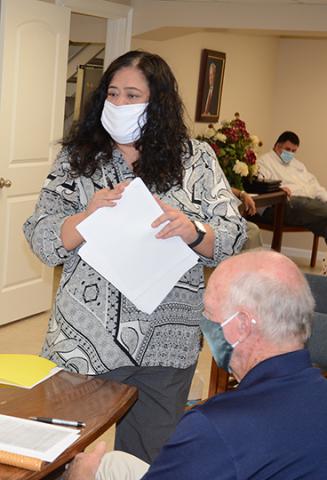 DOUBLE SPRINGS - Allegations of alcohol possession and inappropriate conduct at the central office of the Winston County Board of Education came to light publicly, when questions from a concerned parent were directed to Winston County Schools Superintendent Greg Pendley and school board members at their Thursday, Aug. 27, meeting.
Bobbeth Champion, who had earlier asked to be placed on the agenda, approached the board - seated at a table - with hand-outs, including a copy of a letter posted on social media by an anonymous individual claiming inappropriate conduct by the leadership and staff at the central office, located off Highway 195 in Double Springs.
Another hand-out was what she noted was a transcript of a conversation that allegedly took place between Pendley and her employer, claiming threats made by Pendley to her employer over her upcoming attendance at the meeting.
The first hand-out, written by "a concerned citizen" as it was signed, noted he/she was deeply concerned that the, "school board is not holding Superintendent Pendley accountable for his actions of himself and other staff members at the central office."
The social media post claims that it was noted by some, if not widely known, that Pendley was caught consuming or otherwise under the influence of alcohol while on the job, as well as allegedly having an inappropriate relationship with a member of the central office staff.
"It is my understanding that all board members are aware of this situation and have yet to act upon these findings," the anonymous person wrote in the social media post.
"How can we trust that the judgment and actions of our highest level of local school leadership are sound when he (Pendley) is using his position and taxpayer-funded office for an adult playground," the post stated.
The post also questioned Pendley's judgment when hiring leaders at local schools, resulting in a, "mass exodus of students due to the behavior of this person prior to their promotion," the post stated.
The post also claimed that several well-qualified persons had expressed interest in the latest leadership position, but were not considered.
The anonymous individual attached the Winston County BOE's mission statement to the letter, which states that Winston County Schools is blessed  with capable students, dutiful employees, dedicated parents, professional board members and a supportive community.
Other areas of the mission statement were highlighted, such as, "effective leadership is key to student learning,"  as well as, "educational resources must be managed effectively, transparently and equitably" and "high standards and expectations must be maintained through a system of accountability."
Before Champion addressed Pendley and the board, Winston County School Board President Joey Boteler informed her of a five-minute time limit provided to those who wish to address the board, which is part of the board's policy.  Boteler noted that this policy would be strictly enforced.
Champion had called on Aug. 26, to be placed on the agenda to address the board, according to the second hand-out she gave to board members at the meeting.
Champion began by saying she at first had wished to be on the agenda due to other totally separate issues, but had decided she would not address the board and have her name removed from the agenda because she felt board members were not interested in what she had to say.
She changed her mind and decided to stay on the agenda, after her employer allegedly received a call from Pendley, Champion stated.
Referring to this second hand-out, Champion claimed that Pendley contacted her employer during the morning the day of the meeting. At first, Pendley allegedly had left a voice message, which Champion claims  said, "I would hate for her to get herself into a situation where she is going to be legally bound by some things that she might say," according to the letter she produced.
Champion asked if Pendley contacted the employer of every person who asks to be on the agenda.
"He doesn't know what I want to say," Champion said. "He doesn't know my concerns."
The employer reportedly called Pendley back, with Pendley claiming Champion had been evasive when being asked why she wished to be on the agenda.
"He assumed that the anonymous letter that is currently going around social media about him was the reason I was requesting to be on the agenda," Champion continued. "Did I tell him that? Why is he assuming this about me?"
Champion claimed, citing from her second handout that Pendley had informed her employer,
"She needs to know that if she says the wrong thing, then I will sue and, uh, I will, you know, because that's defamation of character of me personally," her letter cited.
Looking up from the letter and directly at Pendley, who was seated across the board table from where she was speaking, Champion then asked, "What did you do to me? He threatened me.
"Is that how you treat everyone that wants to be on the agenda?" Champion then asked.
At this point, Boteler informed Champion she had one minute remaining.
Holding up the letter copied from the social media post, Champion then asked, "Is this true? Is this rumor,  about sexual relations at the office, about alcohol..." Champion said, at this time in a louder voice as she passed out copies of the letter to each board member.
Champion also claimed that Pendley had requested the presence of law enforcement at the meeting. Winston County Sheriff Horace Moore was in attendance at the meeting.
"Because I am such a violent person," Champion said sarcastically.
"Ms. Champion, your five minutes are up," Boteler informed her, at which time she gathered up her papers and sat down.
After the board conducted its regular business, board attorney Jeff Mobley came forward, confirming the need for the board to enter an executive session to discuss issues that had been raised.
"I have a letter from the board that says there is statutory authority as required by the Alabama Open Meetings act for you to go into executive session," Mobley said.
"During the executive session, no vote will be taken and no deliberations will be be handled," Mobley added. "It is my understanding that at the end of this meeting that, once we have come out of executive session, you will immediately adjourn, so no additional action will be taken this evening."
Board member Lamar Frith made the motion for the board to enter executive session, with Randy Lee seconding the motion, and all voting in favor, including Frith, Lee, Mark Finley, Allin Bailey and Boteler.
After the meeting, Champion told the Alabamian statements she had printed in her second letter.
"If the accusations in the anonymous letter and rumors circulating around the county are true, then those issues need to be addressed by the Winston County Board of Education because the children and citizens of Winston County deserve better.  They deserve the best education that can be provided to them, and all employees within the Winston County system should be held to the highest possible standard," Champion added.
"If that stuff is going on, something needs to be done," she said. "If there is alcohol found in people's desks over here, it needs to be addressed.
"How can the board let people get away with this stuff that is possibly going on here, and punish our kids or our teachers if they do the same thing?" Champion continued.