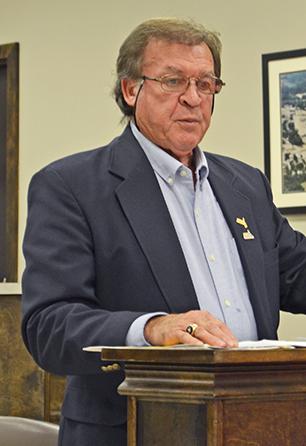 HALEYVILLE       -  Issues being faced by the Winston County Commission are not just related to state, but also federal funding concerns, Commission Chairman Roger Hayes said during his state-of-the-county address to the Haleyville Area Chamber of Commerce Friday, Nov. 4.
"I think it's necessary  that a public official, talk to the people in their area and let them know what is going on, especially the finances," Hayes informed chamber members gathered in the Haleyville City Hall courtroom.
Hayes has been informing people the past several years that the county budget is $8.6 million because two-thirds of Winston County is located in the Bankhead National Forest, from which the county does not receive any revenue, he indicated.  Hayes has since learned the county's budget has increased to $10 million, he further informed the Chamber.
"But we're still short, comparatively speaking, to other counties adjacent to us, Marion County and Franklin County," Hayes noted.
"Their budgets are in the neighborhood of $14 million. You don't have the private taxes that's coming out of that 96,000,  97,000 acres over in the forest," he added.
Winston County's road department budget is $4.5 million; sanitation's budget is $2.5 million and the sheriff's office budget is $4.5 million, which is approximately 50 percent of the budget, Hayes explained.
In some counties,  the sheriff's office portion of the budget reaches as high as 65 percent, Hayes continued.
"I'd like to give everybody all they need and want, but I just can't do that," Hayes pointed out.
When Hayes came into office as commission chairman in 1993, the county owed $327,000 and had been sued for at least $400,000, with the county settling a lawsuit for $43,000, he said.  The county was also able to pay off the $327,000 debt over a period of 20 years, according to Hayes.
"I felt if we were going to survive, I had to stop the holes up," Hayes said. "And we eventually did.  The banks were very patient with us, and we appreciate that very much."
Concerning the gasoline tax, which is designated for road and bridge improvements, Hayes noted the county is not allowed to pave from October through May due to weather during that time causing damage to pavement, county officials have said.
The county's portion of the 10 percent gasoline tax is around $800,000 per year, Hayes said.
"That is where our legislators came in and bit the bullet," said Hayes. "People have been kicking this thing down the road for years and years and years, and it just wasn't working."
The county is also facing obstacles from the lack of a paving machine since the one they have been using is not longer operational, Hayes explained. The county ordered a new machine at a cost of $400,000 about two months ago, he said.  However, the machine is not expected to arrive until May or June 2023, Hayes explained.
"As everybody knows, parts are hard to get, but equipment is hard to get," said Hayes.
The county, Hayes added, tries to keep ahead when it comes to ordering parts for equipment due to the delays in shipments.
Hayes thanked the county's state  legislators--including Representative Tracy Estes and Senator Garlan Gudger, who were in attendance for the meeting--for their assistance in the Resource Conservation and Development Council giving up to $80,000 a year in funding for Winston County for use on community development projects.
"It goes to your communities. It goes to your schools. It's like seed money," Hayes said. "If you are starting off from zero, it's very hard to get a project going, as you all well know."
Entities which qualify for RC&D funds have to be tax exempt, said Hayes, adding the funding is awarded in three categories: 1) state;  2) education and 3) community development.