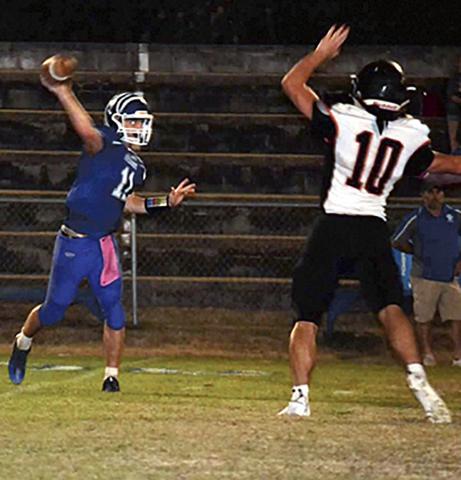 BRILLIANT - Rushing for over 200 yards, the Brilliant Tigers racked up over 400 yards of total offense as they powered their way past Meek High School 30-6 for their first region win of the season.
The hosting Brilliant Tigers built a 22-6 lead in the first half and cruised to the win over the final two quarters using their traditional ground-and-pound style offensive tactic.
Junior signal-caller Kade Bryant was the leading rusher for Brilliant in the win. He finished with 22 carries for 121 yards, scoring twice. He added another score through the air while going 8-of-14 for 119 yards.
Brilliant struck first in the matchup, finding the end zone with a six-yard connection between Bryant and Braden O'Mary. The PAT was no good, leaving the score at 6-0 with just under three minutes left in the opening period of the game.
Meek answered the score on their ensuing drive, using a five-yard  carry from James Brown to find pay dirt. The two-point try was no good, leaving the score at 6-6 with one miute remaining in the first quarter of action.
Brilliant added two scores in the second frame while holding Meek off the board. Brilliant's first score of the quarter came from Braden Burleson who powered the ball across the goalline from 11 yards out. Bryant connected with Burleson for the two-point conversion to give the Tigers a 14-6 advantage with 11:50 remaining in the second quarter.
Brilliant's second score of the quarter came from Bryant on a keeper from eight yards out. Bryant also carried over the two-point try, making the score 22-6 with 4:17 remaining in the half.
Brilliant capped the scoring for the game in the fourth quarter with a three yard carry from Bryant. Burleson carried over the two-point conversion to round out the scoring at 30-6.
Brilliant finished the game with 223 rushing yards on the night to go with 119 yards through the air. In the return game, the Tigers finished with 66 yards, bringing their total yardage to 408 yards on the night. The Tigers finished with three scores on the ground and one score through the air.
Burleson finished the game with 76 yards on the ground, scoring once. He also had 36 receiving yards and 13 return yards.
Trevor Barton had 72 receiving yards.
O'Mary finished with six receiving yards and a score while also posting 53 return yards.
Elijah South finished the night with 26 yards on the ground and five yards through the air. On the defensive side of the ball, he pulled down an interception.
With the win, the Brilliant Tigers improve to 3-3 on the year and 1-3 in region play.
This week, the Tigers will travel to Berry High School (4-3, 3-1) for a Class 1A Region 6 showdown.