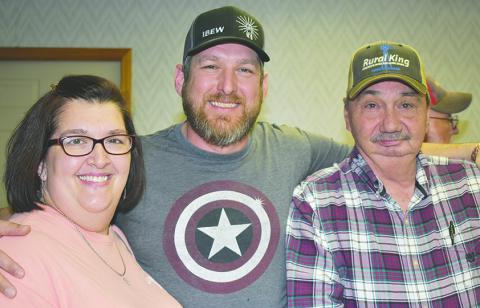 BLACK POND - A public message on the Facebook page Black Pond Community News posted Friday, March 6, stirred up strong emotions between members of the Black Pond Volunteer Fire Department and the public, leading to a public meeting at the fire department March 10.
The original post by Jeannie Williams stated that Williams wanted Fire Chief Terry Tidwell to resign and that she wanted to have five members on the board of directors.  What could have been a negative meeting filled with anger, however, turned into something positive. Along with members of the community, Williams, Tidwell and fire department members in attendance were James Garrison  with the Ashridge Volunteer Fire Department, who also serves as president of the Winston County Fire Fighters Association and  Jeff Marksberry from Central Volunteer Fire Department - which covers Houston, Moreland and Grayson.  Marksberry is also an officer with the WCFFA.
Tidwell called the meeting to order and then turned the floor over to  Williams.
"I have asked Terry to step down as fire chief because I lack confidence in his leadership," Williams began. "I have never witnessed any training. I have been to meetings where there were no minutes read, no financial reports stated.  I think it's time Terry steps down and lets some younger folks come in and see what they can do with the fire department."
"I don't know that I've seen you at very many meetings," Tidwell replied.
As the discussion continued between Williams and Tidwell, Garrison interrupted to speak to Williams.
"The only people who can take that man (Terry) out of his position are the firefighters of this department who actually go into fires and trust him 100 percent, or the board of directors, Garrison said.
At the mention of bylaws in the meeting, Williams requested to read the bylaws and asked who were the members on the board of directors. Bylaws were provided, and she was informed "Duck" Tidwell and  Terry were the only two members left on the board of directors.
"The last time, our ISO (Insurance Services Office) rating went down," Williams explained. "My insurance went up."
"Everybody else's did," Terry replied.
"If we had a good ISO, it wouldn't have went up right?" Williams asked. "What is a good ISO?"
Garrison explained Black Pond was rated 7/7X.
"A rating of five is the most and median common rating fire departments receive," Garrison continued.
"When we have another ISO inspection and they drop us down any more, what happens?" Williams asked.
"They are not going to drop us down lower than what we are right now," Terry said.
Marksberry added it was more difficult to go lower now due to the amount of equipment fire departments have. Garrison read an ISO statement where 50 percent of the rating comes from the fire department itself, including staffing levels, training and proximity of the fire department. Forty percent of the rating comes from the water supply.
"Water supply is the main cause across this whole nation of fire ratings being so high because there's just not enough water access," Garrison said.
"There's a whole lot of stuff the fire department doesn't have any control over at all," Marksberry added. "Your hydrants, for instance. How much water supply they have. The size of your hydrants. Flush plugs don't count any more unless it will flow 250 gallons per minute for an hour. That's a lot of water. There's a thing about hydrant pressure." He continued saying if he went to one fire hydrant and added a pressure tester, then went to another fire hydrant and turned it on, if the first one's pressure dropped to zero, that hydrant does not count on the ISO report.
Terry also explained about the mutual agreement between Black Pond and Double Springs Fire Department. Each department will help the other fire department with a fire, and the agreement has been in place for many years. ISO recognizes mutual agreements.
Marksberry continued by explaining if a fire department exists, it automatically helps with insurance rates on homes, but without one, there would be no coverage at all or it would be too expensive.
"You all have answered a whole lot (of) questions," Williams stated. "I wanted the truth. Everybody that's on the (fire department) roster, stand up so we can count." At least six stood up after Terry motioned for them to.
"I just got two more," Terry said. Two persons had just agreed to become members of the fire department as the meeting was being held.
"How many needs to be on the board?" Williams asked. Garrison responded  five to seven.
"There's two of us right now," Terry said. "We need at least three more."
Three community members - Dawn Carroll, Yo Williamson and Josh Tucker -  volunteered to be on the board. Williams then stated a meeting would need to be called and in order to vote, the person would have to have attended 75 percent of the meetings in the past.
"Do the firemen really decide who's on the board or does the community decide that?" Garrison asked.
"That's with the community," Terry said. "To elect a chief, it's up to these firemen. It's nothing to do with the community. If these folks are not satisfied with me, I'll step down tonight."
It was decided by all parties involved to elect the three new board members to the board and take a look again at the situation in a few months.
Marksberry made the comment that a good crowd had turned out for the meeting.
"Everybody came because everybody said I was picking on Terry and saying negative things about it," Williams said.
"You were," was Terry's reply. "I've got everything you said right here." He gestured toward a stack of paper printed from Facebook.
"You said nobody wanted to volunteer because of how he treated people," a member of the audience told Williams, to which she said yes.
"I've asked several people to come and help us."
"Who?" it was asked. "Nobody's here backing you."
"They don't want to because they are afraid of repercussions from you," she directed at Terry, to which several laughed.
Marksberry made a suggestion to have one of the newer board members be a liaison to the community and let them be a voice. If arguments break out, it will only hurt the community, he said.
"That's why I wanted to come to Terry's house and talk to him and ask him to do the right thing," Williams said.
"Yeah, but don't call me while I'm working and tell me to resign," Terry said. Marksberry suggested getting a vote of confidence, having people vote anonymously whether they wanted Terry to be chief.
"So the ISO rating means nothing?" Williams asked.
"It does to your insurance," Garrison replied.
"So they can never shut this (fire department) down?" she asked, to which a no answer was given.
"Alright, since I have been proven so terribly wrong, Terry I'm so sorry for everything I said about you.  You took it the worst way possible," Williams said.
"I accept your apology," Terry said. "It's like I told my firemen last night. I told them if they weren't satisfied with me, we'd have an election. But that doesn't mean I'll get out of the fire department. I'm not going to sit around, not after all the time, money and the stuff we have right now (and watch it) go to waste and close down."
A vote was called to accept the three new volunteers to the board of directors, and the vote was yes with none opposed. The meeting then adjourned.
"We've settled some stuff that needed to be settled," Terry said after the meeting. "We got our board members, so we're back on track. Everything right now is OK. I think everything went well. No one got aggravated. It was a peaceful meeting, and that's what I wanted."
Original directors, incorporators and officers of the BPVFD were Douglas R. Rice, president; Terry L. Crowson, vice president; Nellene Shewbart, secretary; Theron G. "Duck" Tidwell, treasurer; Terry W. Tidwell, chief and Roger Bradshaw, assistant chief. The papers were filed in the Winston County Probate Office for incorporation on May 10, 1989.