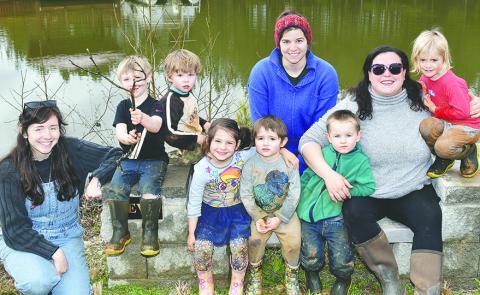 NAUVOO - One of Winston County's secluded spots is at Camp McDowell, on Clear Creek near the Walker County line. It was purchased by the Alabama Diocese in 1946 and made into the camp it is today. A multi-faceted facility brimming with stunning architecture, one of the highlights has become known as Alabama's first nature pre-school: Magnolia Nature School at Camp McDowell. Excitement came on Feb. 5, when the Alabama State Department of Education named Magnolia a 2020 Alabama Green Ribbon school.
This award recognizes innovative efforts to reduce environmental impact and utility costs, improve health and wellness and promote environmental and sustainability education. The Magnolia Nature School will be nominated to be recognized as a U.S. Department of Education ED Green Ribbon Schools awardee, announced this spring, according to a press release from the Alabama Department of Education.
"We are so proud to have schools that are recognized for not only being beacons of quality education, but that are serving as leaders in innovation — especially in the important role of reducing our carbon footprint…," Eric G. Mackey, state superintendent of education, said. "Most importantly, I fully appreciate the teaching and learning about nutrition and environmental issues that will have long-lasting impact for years and years to come."
"We partner with Headstart, a part of Community Action Partners of North Alabama," Maggie Johnston, dean of education, said. "They pay for some of the children to come, while others are privately funded."
The school began in 2016, from an idea of Johnston had.
"I was determined we needed to have nature-based education," she continued. "I wanted to find a way to reach out and not only have an impact but get to know the local community and for them to know us. So often our clientele is from far away. Local people have passed the sign and not know what we do here."
The school and camp in general have been making use of geothermal systems and solar arrays. On the horizon is a hydro system, called an Archimedes screw, which will be installed in Clear Creek on the dam. It will be used to reduce energy consumption and allow less dependence on carbon burning systems for electricity. The school also received the Best Environmental Education Program award from the Environmental Education Association of Alabama in 2019.
While the green ribbon status award was given to the Magnolia school, it was generally applied to the whole camp, according to Johnston. The school benefits from camp-wide efforts of carbon-reducing and energy efficient products.
Three buildings at the camp are on geothermal usage, while two buildings are on solar electricity. These two solar buildings saved approximately $16,000 in electricity in 2019.
"There's so much happening here," Johnston said. "Right now, I'm working with people from Alabama Early Childhood Education, who manage pre-school age. We are looking for ways to partner with them to help get nature-based education out in the public and private schools around the state. So many of our kids today don't go outside and play. As teachers, we need to be making them aware of what the world is like outside and our connections to it."
Goals for the nature school are to spend a large part of each day outside with hands-on exploring and learning; support students as they are challenged at their own pace; guide children to become active independent learners and follow and exceed the standards set out by the State of Alabama.
Their mission is to inspire curiosity, cultivate excitement for learning and create good steward's of God's Earth.
At the time of the purchase in 1946, the Episcopal Bishop of Alabama, Rt. Rev. Charles C.J. Carpenter gave a statement on the area.
"The site on the edge of the Bankhead National Forest is one of the most beautiful spots I have ever seen." Camp McDowell was named after then deceased Rt. Rev. William G. McDowell.
Magnolia School is looking for attendees for this summer. Two sessions are offered: June 1 - 26 and June 29 - July 24, from 8 a.m. until 2 p.m. Ages three to five and six to eight are accepted and will get to explore streams, swim, climb rock walls, milk goats, canoe and more this summer.
If you would like more information, you can e-mail Julie Camp at magnoliadirector@campmcdowell.com or call 205-387-1806, ext. 121.