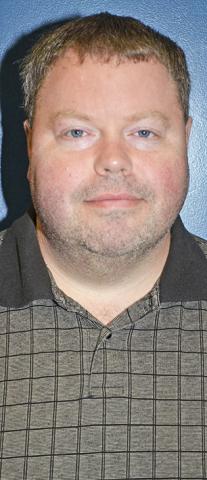 HALEYVILLE - A member of the Alabamian family has won a prestigious award from the Alabama Press Association.
Staff Writer P.J. Gossett has been awarded an APA Journalism Grant for his article headlined "Information sought on Black Coal Miner's Cemetery", which was printed in the Dec. 16, 2020, edition of the Alabamian.  The article details the quest of retired U.S. Navy Chief James Ferrell to preserve and learn more about the Black Coal Miner's Cemetery, which is located in a wooded area in the heart of Brilliant and falling into serious disrepair.  The article also provides historical information about the three individuals who have readable tombstones who are buried within the cemetery.
"This was one of those stories which fell into my lap, so to speak,"  Gossett said.
An avid historian who has had several books published detailing various aspects of the history of Winston County, Gossett was able to use his research skills to approach this story in the manner it deserved.
"Working on the history of Winston County for many years has given me a different perspective for writing historical articles for the Northwest Alabamian. This insight offers many avenues of research one might not think of otherwise,"  Gossett said.
Gossett was awarded a $500 grant as part of his award, with the funding coming through the Alabama Power Foundation and administered by the APA Journalism Foundation.  Retired journalism professor Steve Stewart served as editor for the project.
Gossett's story, along with his photos of the Black Coal Miner's Cemetery, have been made available to all 112 member newspapers within the Alabama Press Association to print.
"Words cannot express how proud I am of P.J. for applying for and winning this grant,"  Alabamian Managing Editor Shelly Hess said.  "P.J. is an essential part of not just our newsroom, but our Alabamian family.  The talent, professionalism and tremendous amount of hard work he puts in to everything he does shines through his stories.  I am so excited that people throughout our great state will now have the opportunity to read his work and see what an incredible writer he is."
Gossett thanks the APA Journalism Foundation and the Alabama Power Foundation for their generous funding of the APA Journalism Grant program.  
"I also wish to thank NWA Managing Editor Shelly Hess for her help in researching those buried in the cemetery and for encouraging me to apply for the grant,"  Gossett said.
While his story is now an award winner, it is not complete, Gossett said.
"Descendants of those who are buried at this cemetery were sought for this article, but none were found. Photos of these three men and the other unknown persons buried at the cemetery exist out there somewhere. It would be beneficial historically if they can be found,"  Gossett said.
The story can be found on the Alabamian's website, mynwapaper.com.  Anyone who has any information regarding the Black Coal Miner's Cemetery or those buried within it are encouraged to reach out to Gossett by calling the Alabamian at (205) 486-9461.
Gossett joined the Alabamian staff as a reporter/photographer in 2018.