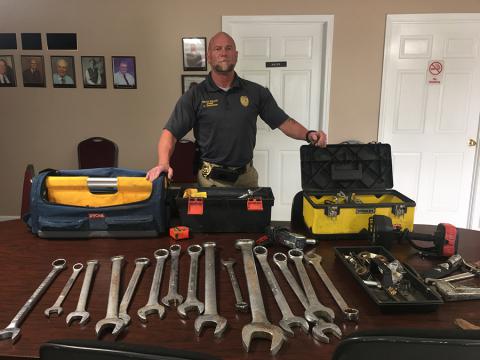 ARLEY   -  Persistency from the Arley Police Department led to the arrests of two individuals on burglary and theft charges, as well as the recovery of over $2,000 worth of stolen items four hours after the incident occurred.
Arrested were Jackson Dewayne Murphy, 28, of 420 Arley Landing, Arley and Kenneth Rex Walker, 36, of 3711 Country Club Road, Jasper, each charged with burglary first degree and theft of property second degree, according to Arley Police Chief Jerry Cummings.
Murphy and Walker had been working to remove items from a home where the owner was in the process of moving when they allegedly took from the home $2,000 worth of items, including assorted sizes of wrenches, tool boxes and a variety of tools and sockets, Cummings stated.
Around 9 a.m. Monday,  July 19,  a male subject came to talk with Cummings about a person who was going to steal some items at 160 County Road 3910, Cummings stated.
At this point, Cummings went to 420 Arley Landing, finding Murphy and informing him to accompany him to the police department where they needed to talk, the chief stated.
When the two arrived at the police department, Cummings read Murphy his Miranda Rights and asked about his whereabouts that morning.
"He stated he was at home in bed, but I told him I knew better than that because four hours after the stuff was stolen he was in my office and we were having  a talk," said Cummings.
Murphy then began admitting to going to the residence on County Road 3910, so when the interview was finished, Cummings went to the residence at Arley Landing, where he found items that had reportedly been stolen  from the residence on County Road 3910, he explained.
The items were found in Murphy's residence at Arley Landing, according to police.  Walker, the other individual allegedly involved, was at that residence and was read his Miranda Rights, said Cummings.
Walker was also questioned about his whereabouts between 4-6 a.m. that morning - the time period in which the burglary and theft allegedly occurred, police indicated.
"He stated he was there at the residence. I told him, 'No, you weren't.' I told Walker we were going to quit all the lying and answer my questions," Cummings pointed out.
Cummings started over with his questioning and Walker began to admit his involvement in taking the items, he said.
"The two guys acted together," said Cummings. "Once the offenders knew that I knew it was them, they started cooperating and telling the truth."
"The individuals knew what was still left," Cummings said. "They told me they went back to the residence to finish moving. I asked them, 'From 4 o'clock in the morning? It's still dark.'
"No one starts to work at 4 o'clock in the morning to move unless you are up to no good," Cummings added.
Cummings asked Walker and Murphy if they had planned on pawning or selling the items they had allegedly taken.
"They stated they were going to keep them," Cummings said, noting he did not believe this statement.
Pictures of the recovered items were sent to the homeowner, who identified them as being stolen, Cummings said.
The chief then did an inventory of the recovered items, he said, adding that Walker and Murphy were taken without incident to the Winston County Jail in Double Springs.
"I want to thank the public for the information that led me to the individuals who were out taking things from people that don't belong to them," Cummings said.
The items that were recovered by police have been returned to the rightful owner, according to Cummings.
A special thanks was given by Cummings to Winston County Sheriff's Deputy Josh Bennett for his assistance in the case.
Walker and Murphy made bond and were released from jail pending a court date, officials said.
*When a defendant is charged with a crime, the charge is merely an accusation until or unless proven guilty in a court of law.