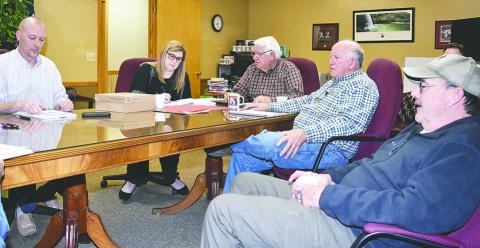 DOUBLE SPRINGS - When Bill Hawkins passed away on Tuesday, Feb. 25, it left a council seat vacant at the Town of Double Springs. As events unfolded at the town council meeting Monday, March 9, another seat became available when Mayor Elmo Robinson read a resignation letter by council member Bart Seymour. Seymour's resignation is due to him no longer living in the city limits.
A portion of the letter reads, "To the mayor and council of the Town of Double Springs:
"I, Bart Seymour, hereby resign my town council position with the Town of Double Springs. This resignation shall take place effective as of April 1, 2020."
"Bart, we hate to see you go," Robinson said.
"I've enjoyed it," Seymour stated. "It's a fun process. It's a different location (where he has moved) out of the city limits. I appreciate the help I've received from everybody here. It's always a neat thing when a situation like this turns into more of a friendship and a family than a so-called council meeting."
"This council, I think, has been unique," Robinson continued. "We all get along, and we discuss what we need to here in the council meeting, then we don't get outside and bash the city or any of the council members."
Robinson read a list of names who would be interested in filling one of the seats. He said there would be more discussion on this at the next work session.
Motions were called to declare the seats vacant by council members. Tim Cockrell made a motion to declare Seymour's seat vacant with Adam Veal seconding. Then Veal made a motion to declare Hawkins' seat vacant, with Seymour seconding.
Double Springs has 60 days to fill the vacant seats.
Additional items brought to the meeting included an annual audit report from certified public accountant Donald G. Wallace, of Northport.
In summary, total revenue for fiscal year 2019, ending Sept. 30, was $4,886,987, with total expenditures of $4,322,327. Total assets were $8,400,278, while liabilities were $5,839,387. A copy of the town's annual audit is available for public inspection during normal business hours at town hall.
"It was a good job, a good year on the audit," Wallace said.
Scott Slatton,  25th Judicial Circuit district attorney, asked the town council to help fund the female investigator for sexual abuse and domestic violence victims he is working on hiring for Marion and Winston counties. The amount Slatton is asking municipalities  to pay is $2,500 apiece.
"You know I have a big heart for kids," Veal said. "I have a house full of young ladies. Anything that would help or give needed assistance to make (victims) more comfortable at a time like that, I'm all for it. You can't put a price on something like that."
Veal made a motion to pay the amount with Council Member Hobby Walker seconding. Slatton mentioned his office has one regular investigator now, Rusty Hulsey, who is certified in computer forensics and took a six-week course at the National Computer Forensics Institute.
Visiting at the meeting was State Representative Tracy Estes, who gave updates on various items in the legislature. One item specifically is a concern for the town: a third traffic light on Highway 33 at the intersection of County Road 24, leading to the industrial park and three of the four schools in town. He has been speaking with the Alabama Department of Transportation about this. Another bill he is working on concerns restaurants.
"I just got a bill through the committee the other day about restaurants with drive-thru windows," Estes said. It was brought to his attention there was no law to display the health score at the drive-thru portion of a restaurant.
"At first I was going to bring a bill saying you had to post your score and have it attached to your drive-thru menu," Estes explained. "I thought, 'I'm a pro-business Republican, so I don't want to make it too hard on businesses.' We re-drafted a bit, and now if you score below an 85, you'd have to post your score. If you have an 85 or above, you're good."
New safety vests for traffic scenes have been purchased for the Double Springs Fire Department, according to Brandon Lewis, who gave the town council the report.
"That will give one to each perso, because so many of us run our personal vehicles to wrecks," Lewis said. "It'll put one in each fire truck. We'll all have reflective safety vests on traffic scenes."
Nozzles and hoses are becoming a concern because of their age. Lewis is checking with Municipal Emergency Services, Inc., about getting prices on six fire hose nozzles. Graphics and decals on fire trucks have come in, and Lewis is looking to find someone to perform the work of placing them on the trucks. He informed the council the price of the graphics was between $400 -$450.
A dilapidated house east of the courthouse on Blake Drive has been purchased by the town recently and will be used for training purposes for the fire department.
Robinson stated it had no water and some of the floors are rotten.
"Brandon is going to burn it for us. They're going to get down there with their equipment and clean that whole lot up where it will look decent."
The council previously asked Robinson to get estimates on repairing the roof at the community center. Several contractors looked at it, but only one quoted a price. The estimate was $38,198 from Fred's Roofing, owned by Federico Marchan.
"He's going to replace the tin with a heavier metal and cover the flat part over the library where it won't leak," Robinson said. "He said he would repair all that and replace the wood that needs to be replaced."
Part of the reason for the higher price is the type of metal which would be added to the roof. Only one year will be given as a warranty, though Walker asked Robinson if he could perhaps see about obtaining a five-year warranty.
"I don't think we'll beat Fred's price on it," Robinson said.
A motion was made by Walker and seconded by Seymour to approve Marchan's roof repair services.
Beth Gilbreath, a teacher at Double Springs Middle School and sponsor of the show choir, Forté, asked the council if they would donate any money toward the show choir.
Veal mentioned Gilbreath is doing this to give another option to students besides sports and band.
"She reached out and asked if we could help in any way," Veal said. "She needs about $1,500, but I know we have set aside an amount and try to stick to it. It's a cool opportunity for our students." Seymour made a motion to donate $1,000, and Veal agreed.
The asphalt in the parking lot at the municipal building was also discussed.
"I got an estimate on it from a patching crew, and it's outrageous what it's going to cost us," Robinson said.
On the subject, Robinson added Alabama Power would install 13 LED lights in the parking lot with a rental of $558.08 per month. Robinson suggested getting those who are going to be installing lights at the city park to install lights at the municipal building's parking lot.
Attorney Jeff Mobley closed the meeting with these words:
"Celebrate the people we work with. Losing (Hawkins) and losing Bart both, you don't realize how wonderful you had it. No question."
The next town meeting will be Monday, April 13, at 6 p.m. at city hall.